Ola electric cars
Ola started as a ride-sharing industry and has expanded to become a sizable corporation. Ola Electric, the company's vehicle branch, was founded in 2020 and now has done an excellent job of establishing itself. Ergo, a Dutch company was first acquired.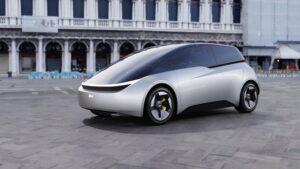 Ola Electric recently introduced a new teaser that pointed to the debut of many models with various body types. At their FutureFactory, Ola Electric decided to celebrate Customer Day. Bhavish Aggarwal, Founder of Ola, previewed three new electric cars during the presentation at the event. On August 15th, the firm will provide further information regarding the impending electric automobiles. Only three pairs of headlights and taillamps are seen in the teaser. The back Ola symbol is also lighted in one idea.
Cars that are to be launched
Each of the three cars has a unique body style. There appears to be a sedan, an SUV-coupe, and a hatchback. From the idea that was unveiled back in January, the headlights are considerably different. Both the front and back of the car were equipped with full-length light bars.
The battery pack would have a capacity of 70 to 80 kWh, as per a media report. The car will not be inexpensive, and the battery pack is large. By the middle of 2023, it is anticipated to go into production and would likely cost approximately Rs. 25 lakhs.
The hatchback, on the other hand, may cost roughly Rs. 10 lakhs. The Tigor EV is currently the cheapest electric vehicle. It has an ex-showroom price range of Rs. 12.24 lakhs to Rs. 13.39 lakhs.
Ola Electric is reportedly developing autonomous technologies, too. An electric car has previously been used by Ola as a demonstration vehicle. It could reach a peak speed of 20 kmph and be outfitted with autonomous technology. Two Light Detection and Ranging, or LiDar, lenses, cameras, GPS, and a video camera were present. The forthcoming Ola vehicles will include all of this equipment. The electric cart on display might automatically stop when spotting a person in front of it. Then it would find an alternative route for your journey.
OLA Electric Car Mileage
The Ola car's Automatic Electric model has a mileage of 20.27 kilometers per full charge. It comes with an automatic transmission and gearbox. The Car has a Hatchback Body type.
Ola Electric Scooters
In the Indian market, Ola presently only provides the S1 Pro electric scooter. However, due to the difficulty with the scarcity of semiconductors, they could not introduce the cheaper S1 electric scooter as planned. Even by the middle of this year, Ola is supposed to introduce the S1. Having said that, Ola did state that they would be able to charge less for the scooter than initially anticipated. Ola charges Rs. 99,999 for the S1 and Rs. 1.29 lakhs for the S1 Pro. Both amounts are ex-showroom pricing.
The Move OS 2.0 for the S1 Pro electric scooter was recently released by Ola. It includes lots of new upgrades and feature enhancements, but most significantly, it resolves numerous faults and difficulties that users were experiencing. We've already ridden the Ola S1 Pro with Move OS 2 and encountered relatively few errors compared to the prior version of the software of the old vehicles.
Cruise control, music playing via speakers, and inbuilt navigation are among the functions offered by the Move OS 2. The software update also includes a new Eco mode, which aids in obtaining a longer ride range from the battery. The update also corrected the issue where the scooter's riding range would abruptly reduce, and Ola claims that the scooter going into reverse should be repaired.
People Also Aks (Q & A)
Ola is currently working on the design of the upcoming electric vehicle. The production is likely to start in the next two years. Ola Electric had set up its FutureFactory in Krishnagiri, Tamil Nadu which has been functional since December 2020
Below are more details about the cheapest electric vehicles in India.
Mahindra eVerito. Price: Rs. 10.15 lakhs to Rs. 10.49 lakhs. …
Tata Tigor EV. Price: Rs. 11.99 lakhs to Rs. 13.14 lakhs. …
Tata Nexon EV. Price: Rs. 14.29 lakhs to Rs. …
MG ZS EV. Price: Rs. 21.49 lakhs to Rs. …
Hyundai Kona Electric. Price: Rs. 23.79 lakhs to Rs.
3. Do we need license for Ola Electric scooter?
Ola Electric Ola Scooter hasn't launched yet. Moreover, you need no license or registration in India for scooters that have their top speed capped at 25km per hour or has a motor of 250W or lower. However, the Ola Electric Ola Scooter is powered by a 6000 W Hub Motor, thus requiring license and registration.
Top EV battery Manufacturers in India
| Name of Manufacturer | Contact |
| --- | --- |
| Exide Industries | Exide Industries Ltd. Exide House 59E Chowringhee, Kolkata |
| Amara Raja Batteries | Terminal A, 1-18/1/AMR/NR, Nanakramguda, Gachibowli, Telangana 500032 |
| Tata group (Tata chemicals) | Tata Sons, Bombay House 24, Homi Mody Street Mumbai 400 001 |