Car registration is a crucial process that every vehicle owner in Arizona must undertake. Registering your car ensures that it is legally recognized and compliant with state regulations. This comprehensive guide will walk you through the car registration process in Arizona, providing detailed information and answering frequently asked questions.
Understanding Car Registration in Arizona
Car registration refers to the process of obtaining official documentation and license plates from the Arizona Department of Transportation (ADOT) to legally operate your vehicle within the state. It serves as proof that you own the vehicle and have met all the necessary requirements.
In Arizona, car registration is mandatory, and failure to comply with the registration laws can result in penalties, fines, and even the suspension of driving privileges.
Step-by-Step Guide to Car Registration in Arizona
A. Gather Required Documents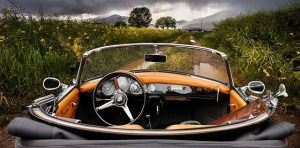 Proof of Ownership (Title or Lease Agreement):

Original vehicle title if you own the car outright.
Lease agreement if you are leasing the vehicle.

 

Valid Identification:

Driver's license or state-issued identification card.

Emissions Compliance Certificate:

Proof that your vehicle meets Arizona's emissions standards.

Vehicle Inspection Report:

Required for certain vehicles, such as used cars.

Proof of Insurance:

Valid auto insurance coverage that meets Arizona's minimum requirements.

Bill of Sale:

If you recently purchased the vehicle from a private party.

Odometer Disclosure Statement:

Required for used vehicles to record the mileage at the time of transfer.
B. Complete the Application
Online Application Process:

Visit the ADOT website and complete the online vehicle registration application.
Provide all the necessary information, including personal details, vehicle information, and payment.

In-Person Application Process:

Visit a nearby ADOT office or authorized third-party provider.
Fill out the vehicle registration application form.
Submit the required documents, pay the fees, and complete any additional forms as instructed.
C. Paying Registration Fees
Fee Calculation Methods:

Vehicle registration fees in Arizona are based on factors such as the vehicle's weight, type, and year of manufacture.
The ADOT website provides a fee calculator to determine the exact registration cost.

Accepted Payment Methods:

ADOT offices and authorized third-party providers accept various payment methods, including cash, debit cards, and credit cards.
Online registration allows payment through electronic funds transfer or credit/debit cards.

Additional Taxes and Fees:

Certain counties in Arizona may impose additional taxes or fees, such as a vehicle license tax or emissions testing fees. Check with your local county's transportation department for specific requirements.
D. Vehicle Identification Number (VIN) Inspection
Importance of VIN Inspection:

Vehicles coming from out-of-state or vehicles with a reconstructed, recovered, or salvage title require a VIN inspection.
The inspection verifies the vehicle's identity and ensures it is not stolen.

Authorized Inspection Locations:

Authorized inspection locations include ADOT offices, law enforcement agencies, and licensed third-party providers.
Schedule an appointment and bring your vehicle for the VIN inspection.
E. Obtaining Arizona License Plates and Registration Sticker
Plate Options and Personalized Plates:

Arizona offers various license plate designs, including specialty plates representing organizations and causes.
You can also personalize your license plate with a custom message (subject to availability and additional fees).

Temporary Registration Permits:

If you need to operate your vehicle while waiting for your permanent license plates, you can obtain a temporary registration permit from an ADOT office or authorized third-party provider.
Special Circumstances and Considerations
A. Out-of-State Vehicle Registration
Transferring Out-of-State Registration to Arizona:

If you move to Arizona with a vehicle registered in another state, you generally have 15 days to transfer the registration to Arizona.
Follow the steps outlined in the registration process to complete the transfer.

Importing a Vehicle to Arizona:

If you bring a vehicle from another country or have a vehicle with a foreign registration, you must follow the appropriate importation process.
Contact the U.S. Customs and Border Protection and the ADOT for detailed instructions on importing and registering your vehicle.
B. Registration Renewal and Expiration
Renewal Methods and Deadlines:

Vehicle registrations in Arizona are typically valid for one year.
You can renew your registration online, in-person at an ADOT office or authorized third-party provider, or by mail.
Renewal notices are sent by mail or email, and it's important to renew before the expiration date to avoid penalties.

Late Registration Penalties and Consequences:

Failure to renew your registration before the expiration date may result in late fees and potential fines if you continue to operate the vehicle with an expired registration.
C. Registering a Used Vehicle in Arizona
 

Vehicle History Reports and Title Transfers:

When purchasing a used vehicle, it is important to obtain a vehicle history report to ensure it is free of major issues or prior accidents.
The seller must provide a signed and notarized title to transfer ownership.

Safety Inspections and Emissions Testing:

Some used vehicles require safety inspections and emissions testing before registration.
Check with the ADOT or local transportation department to determine if your vehicle requires these inspections.
D. Registering a New Vehicle in Arizona
Obtaining Manufacturer's Certificate of Origin:

When purchasing a new vehicle from a dealership, the dealership provides the Manufacturer's Certificate of Origin (MCO) or the title.
The MCO is needed to register the vehicle in Arizona.

New Vehicle Emissions Compliance:

New vehicles generally comply with emissions standards, but it's important to ensure compliance before registration.
The dealership should provide the necessary emissions compliance documentation.
Frequently Asked Questions (FAQs)
How long does it take to receive license plates after registration?

License plates are typically mailed within 10 business days of registration completion.

Can I register a vehicle online in Arizona?

Yes, you can register your vehicle online through the ADOT's online registration system.

What happens if I fail emissions testing?

If your vehicle fails emissions testing, you must address the issue and have it retested before you can register it.

Can I transfer my license plates to a new vehicle?

In most cases, you can transfer your license plates to a new vehicle if you sell your old vehicle and purchase a new one within a certain timeframe.

Are there any exemptions to vehicle registration in Arizona?

Some vehicles, such as certain types of trailers and off-highway vehicles, may be exempt from registration. Contact the ADOT for specific exemptions and requirements.
Conclusion
Registering your car in Arizona is an important process that ensures compliance with state laws and allows you to legally operate your vehicle. By following the step-by-step guide provided in this article and understanding the special considerations, you can successfully navigate the car registration process. Remember to gather all the required documents, complete the application accurately, pay the registration fees, and obtain your license plates and registration sticker. Stay informed about renewal deadlines and keep your registration up to date to avoid penalties. Safe and legal driving starts with proper car registration in Arizona.
READ MORE :-