Transferring a Title in Florida Reference Sheet
Finding Information on a Florida Title Transfer Shouldn't be Complicated.
In the twenty-first century, we might expect to find less bureaucracy in dealing with the Florida Department of Motor Vehicles (FLHSMV), especially when talking about a Florida Car Title Transfer. Yet, for some, finding the most basic of information on this topic poses a major challenge.
To help motorists in Florida, we have assembled this handy reference with some questions that are commonly posed by motorists…
Where can I find the Vehicle Title Transfer Form for Florida?
How do I get a paper title in Florida?
How does "Gifting a car in Florida" work?
Do I need a Bill of Sale to Transfer a Tag in Florida?
If these questions are weighing heavily on your mind, relief is on the way!
Where can I find the Title Transfer Form for Florida?
One of the best parts of Floridian culture is efficiency when it comes to forms. A quick internet search turns up just the form you need if you don't already have the title in your hands, the Application for Certificate of Title With/Without Registration.
This form has been created by the Florida Department of Highway Safety and Motor Vehicles to manage all requests for a certificate of title. You can find it here.
This form is used for vehicles, motorhomes, and vessels.
You will apply for registration and a title in your own name whenever you buy a car, truck, RV, boat, etc. Even if from another state, the title and registration must be updated with the FLHSMV.
To get a title, you need to provide a photo ID, evidence that you are the rightful owner of the vehicle, minimum insurance coverage, the HSMV form (82040) – shown above, and the appropriate payment.
How do I get a paper title in Florida by using GoRenew?
Even though so many transactions take place electronically today, sometimes we still need a paper title in Florida. The good news is that a paper title in Florida is possible if you know who to ask (or where to click!).
The department doesn't want to deal with paper titles because they are messy. Yet, some cases require them. If all liens are "satisfied," then all you have to do is request the paper title online, by mail, or in person.
To get started, visit the FLHSMV Department's website: www.GoRenew.com.

How much does a paper title in Florida cost?
Nothing in life is free these days. Yes, there is a fee. It is $4.50 when you make your request online.
You will find your title in the mail in about two weeks. After a citizen files for a paper copy, they won't be able to print a copy of their title or demand a copy in the service centers in their counties.
You can request a paper copy of the title by mail as well.
You can expect a longer turn around time of up to four weeks when you file this way.
Can I file my paper title request in person?
Some people prefer to handle paper title requests the old-fashioned way – by going down to the county office! Yes, this is possible! If you file your request in person, you need the following: Photo ID, written request to have the electronic title on paper, a processing fee, etc.
You may benefit from this if you need the form in your hands today. There is a ten-dollar fee, though. You can only get the same-day documentation by visiting a motor vehicle service center.
Duplicate titles are available upon request. You will have to file a form, however.
Once you go paper, it is hard to go back. For example, if your title is on paper, you need to present it at the dealership when trading it in. If your title is on paper and you go to sell your car privately, you need that paper title to complete the transaction.
How does "Gifting a car in Florida" work?
Happy birthday to you! It's a new car!
People are gifted cars in Florida for a variety of reasons. When a car is a gift, there is a certain way to handle the paperwork. Basically, it is the same method used to transfer a title as a purchase; however, the sales tax paid is zero.
A traditional title transfer is in order when gifting a car in Florida. However, you can file an exemption from the tax at the time of the transfer (and are encouraged to do so). Just ask about the exemption paperwork when you update the registration and tags.
Questions of taxes should be answered by a professional. Here is our reference: Rule 12A-1.007(25), Florida Administrative Code.
Do I need a Bill of Sale to Transfer a Tag in Florida?
Documentation of a financial transaction, big or small, is always a good idea. That includes the purchase and/or sale of a vehicle in the sunny State of Florida!
Residents should consider buying/selling a car at a motor vehicle service center for the purpose of transferring a title. This ensures both parties are protected. The seller rests easy knowing the vehicle is no longer in his name. The buyer knows that the vehicle is truly his responsibility.
The seller should complete the Transfer of Title (Seller section). The buyer will do the same in their designated sections. This must be completed within 30 days from the date of purchase or else a penalty may apply.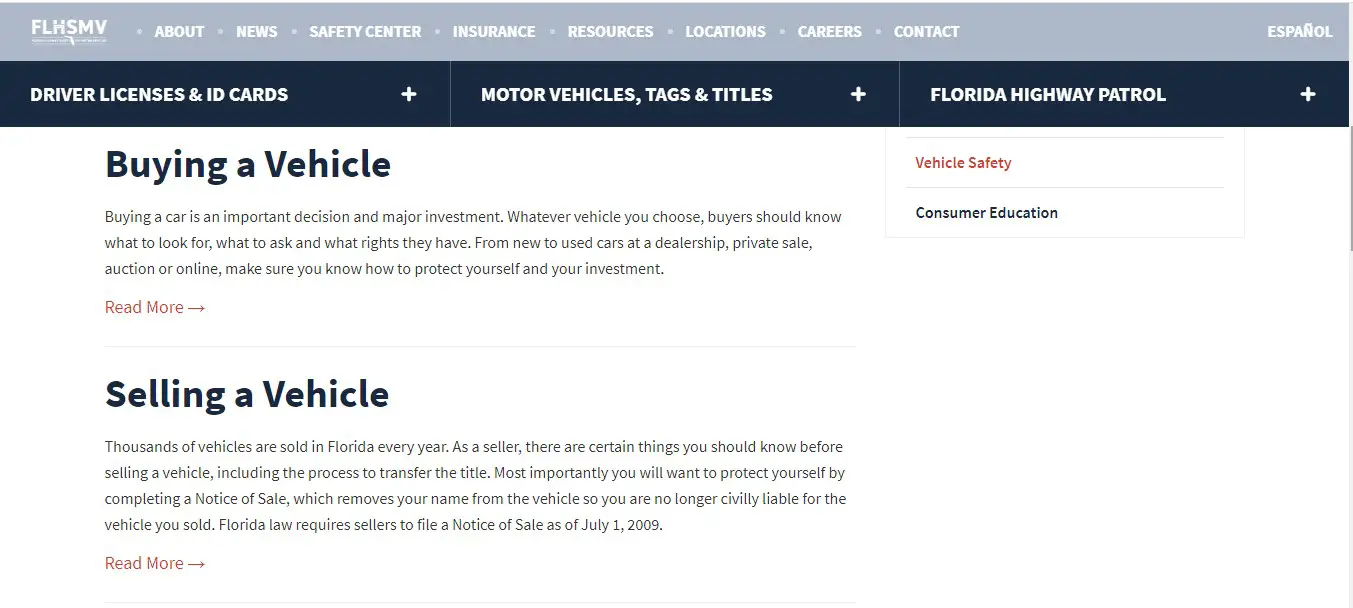 Transferring a car title in Florida can be nuanced depending on the situation. The Department of Florida Highway Safety and Motor Vehicles is the ultimate resource on motor vehicle questions and concerns.
For more information visit our official website: https://consumerauto.us.