DMV Guide To Transfer A Vehicle Title In Texas
When perusing the web for information on a vehicle title transfer in Texas, it is easy to get overwhelmed by the extensive amount of information floating around out there.
It isn't every day that Texans take to their keyboards, enlisting the help of the internet by pounding in search terms like "Texas DMV Title Transfer." One thing is for sure, though. When they do, they want quick answers!

One of the best places to start, if not the best, is the Texas Department of Motor Vehicle website.
When do people need a Texas Vehicle Title Transfer?
Individuals who are buying or selling a car registered in the state of Texas are going to need to know about the title transfer process.
Basically, to transfer ownership, a seller gives the buyer the signed title with the completed documentation, known as the "Application for Texas Title."
What Forms are Needed to Transfer a Car Title in Texas?
Some cases are more unique than others. For example, buyers should be aware they may require "release of lien." In general, the buyer will head to the Texas DMV with the following: signed title, application, and payment.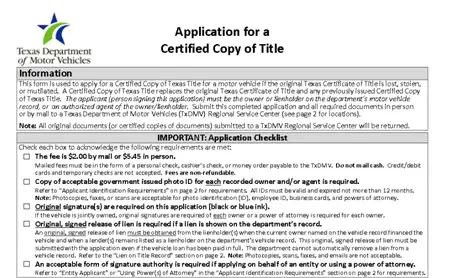 If you don't have a title, you may need to request a copy before filing a transfer, sale, etc.
What to Bring After you Fill Out Transfer of Title Forms
When you obtain a car in Texas, via purchase or gift, you have 30 days from the date of sale to file the appropriate paperwork for registration. Failure to do so may result in penalty fees.
Head to your local county tax office, and bring the following:
Title for the vehicle
Release of Lien to show loan has been paid (if applicable)
Registration Application
Current driver license or government-issued photo identification
Proof of insurance
Safety Inspection approved by the state of Texas (if applicable)
Payment for fees (to be determined by the local county tax office).
What is the Texas Title Standard Presumptive Value Calculator?
The fees to transfer a car title in Texas aren't cut and dry. The fee depends on where you live, the type of vehicle you are transferring, and other fees (vehicle inspection fee, insurance fees, automation fees, taxes, etc.).
State Sales Tax can be computed using a calculator found on the Texas Department of Motor Vehicle website.
What if I Don't Have a Title for the Car I purchased?
If you are in a situation where you find yourself running the phrase "Buy Texas Car No Title" in a search engine, do not panic! There are some steps you can take to remedy the issue according to the Texas Department of Motor Vehicles.
If you can't obtain a vehicle title transfer due to improper documentation (lack of title), then you submit a "Bonded Title Statement of Fact Form" with a copy of your driver license or government photo identification.
Be prepared to pay a fee of $15. This fee is payable to the Texas Department of Motor Vehicles Regional Service Center. The form can be filed by mail or in person.
You can also attempt to resolve the situation via a court order or tax collector hearing. Contact your local county tax office to learn more.
How to Request a Duplicate Title with Texas DMV
Sometimes we lose titles for cars. It happens. The Texas DMV is prepared for this. All you have to do is file an application for a certified copy of the certificate of title. Pay the associated fee, submit a copy of your government-issued photo ID, and you will have the duplicate title in your hands in no time.
What if the Car Owner is Deceased? How do I handle that in Texas?
When somebody passes away, it can be a difficult time for loved ones who are left not only to grieve but to deal with a slew of legalities after the fact. One thing that compounds the difficulty is not knowing how to register a car that has been given to somebody else after death.
You have to provide evidence that the owner has died and that you are to take ownership. If the property is now in probate, the court names a responsible party to provide certification to authenticate ownership. If not, then something called an "Heirship Affidavit" is required.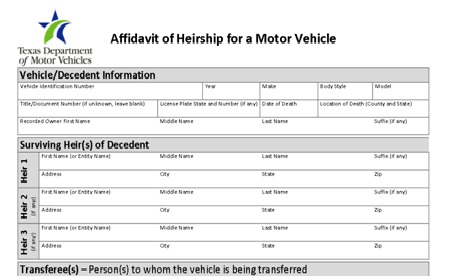 With this documentation, you will need to apply for a title and/or registration at the local county tax office. Bring the following: title (if available), evidence the loans are paid in full (also known as the original release of lien), the title and registration application, a completed gift affidavit, new owner's driver license and proof of insurance, evidence of a current Texas safety inspection, and finally, the payment for the transfer.
For the most recent information, refer to your local county tax office. They are the ultimate authority.
Who should be Contacted for Unique Situations with Texas Car Titles?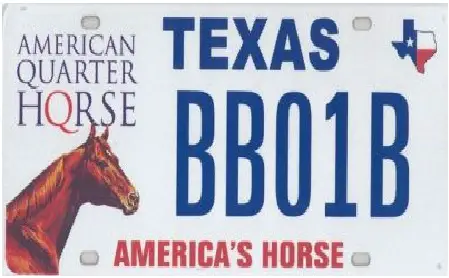 There are a variety of unique situations that can occur when dealing with the transfer of a title or vehicle registration in Texas. Sometimes titles are lost and need to replaced. Sometimes the cars are gifted to a family member.
No matter why you are seeking to transfer a car title in Texas, you need to do your homework. Refer to the Texas Department of Motor Vehicles for the most up-to-date information.R
Read More